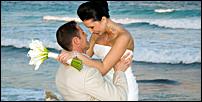 Getting married in Whangamata? No, well, why not? It's the perfect spot, some beautiful, affordable accommodation, white sand beaches as far as the eye can see, and some great people to make the event memorable.

Not only Whangamata beaches though, add in Whiritoa, Opoutere, Onemana, and within fifteen minutes drive from 'downtown' Whangamata you have more spots to get married in than a leopard.

But you'll be needing a few things to get started, a marriage celebrant to kick off proceedings is pretty important. Also to record the event, a photographer is pretty vital, as this is going to be a one off event, and it needs to be recorded for posterity by someone who knows what they're doing, and is not going to cut the top of the groom head off, or lop the feet off the bridal party!

Last but not least, or rather first on the big day, the wedding makeup. Blokes, a decent shave and a spot of brylcream and they're away, but for the ladies, the bridal party, you need a little more for the special day! Once again, Whangamata is well equipped in this department, makeup, spray tans, manicures, pedicures, facials, all those special 'girly' things that blokes just don't seem to understand!

To get you started in your search as you set up that perfect Whangamata wedding, try the following sources for inspiration!

Wedding Makeup - Invigorate Health and Body.
Whangamata's only exclusive beauty therapy, Vanessa will go out of her way to make your day a special one. In salon or outcalls for the makeup, pamper and relax before the big day - you know you need it after all the pressure and hassle of arranging the big day!
www.healthandbody.co.nz

Wedding Celebrant - Evelyn Adams
Evelyn offers beautiful ceremonies as you want them, so you can remember your special day - for you, designed by you (with Evelyn's help), and all about you!
www.beautifulmemories.co.nz


Wedding photos - Linda Herraman
With her photography Linda captures those details and ideas that you have spent months planning for your wedding... along with all the emotions of the day... the excitement, nerves, laughs, tears and love.
Linda then presents these images to you in a beautiful photo book which is designed just for you. This is a treasure to keep and look back for many years to come.
With over 5 years of experience to offer in weddings Linda knows every wedding is unique and she treats each wedding accordingly so.
Please contact Linda at l.h.photos@hotmail.com for more information.
Wild Essence - Bespoke designs by Nikky Seales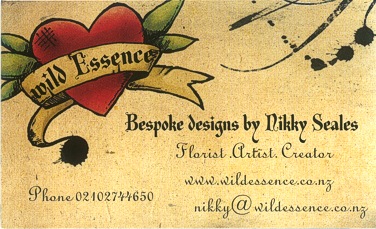 Florist - Artist - Creator
Bouquets - Weddings & functions - Art commissions - Essential oils
and so much more created with love and honour.