Whangamata Accommodation Directory
Needing a place to stay? Whangamata provides a range of accommodation to fit all needs. Camping, backpackers, Bed & Breakfast, Tourist Lodges, Hotels and Motels, there is something for every budget.

For holiday accommodation in Whangamata, Onemana and Whiritoa contact First National Whangamata

Make sure you choose Whangamata for accommodation on the Coromandel Peninsula! Whangamata is the ideal base for touring the Coromandel. Hot Water beach, Cathedral Cove, Hahei Marine Reserve and more...
Also being just an hour away from Hamilton and Tauranga, and two easy hours from Auckland airport, the ideal base for your stay in New Zealand.

Whangamata Real Estate - Beach Accommodation and Holiday Houses for rent
Addsbury House - Whangamata
Beachside Accommodation Host Gavin - This e-mail address is being protected from spambots. You need JavaScript enabled to view it.


Blake Court Motel Port Road - This e-mail address is being protected from spambots. You need JavaScript enabled to view it.
Breakers Motel Hosts Doug and Marie Bunyan - This e-mail address is being protected from spambots. You need JavaScript enabled to view it.
Brenton Lodge Hosts Sally and David - This e-mail address is being protected from spambots. You need JavaScript enabled to view it.
Bushland Park Lodge Hosts Rhienhard & Petra Nickel - This e-mail address is being protected from spambots. You need JavaScript enabled to view it.
Conservation Campsite Wentworth Valley

Whangamata Bed and Breakfast - 314 Given Avenue: 07 865 9804

Hillbrook Cottage - Onemana - This e-mail address is being protected from spambots. You need JavaScript enabled to view it.


Kotuku Bed and Breakfast Hosts Peter & Linda - This e-mail address is being protected from spambots. You need JavaScript enabled to view it.
La Dolce Vita - This e-mail address is being protected from spambots. You need JavaScript enabled to view it.

Marine Reserved Apartments - Hosts Mike and Carron Chote - This e-mail address is being protected from spambots. You need JavaScript enabled to view it.
Onemana Chalets
Opoutere Park Beach Resort Hosts Dianne & Peter
Opoutere Y.H.A. Managers Karen & Rusty

Pacific Rise Apartments - This e-mail address is being protected from spambots. You need JavaScript enabled to view it.

Pacific View Bed and Breakfast Hosts Kathryn and Peter - This e-mail address is being protected from spambots. You need JavaScript enabled to view it.
Palm Pacific Resort - This e-mail address is being protected from spambots. You need JavaScript enabled to view it.

Patiki Bay View Accommodation - This e-mail address is being protected from spambots. You need JavaScript enabled to view it.
Pipinui Motel
Port Break - 2 x 2 bedroom holiday apartments in the heart of Whangamata.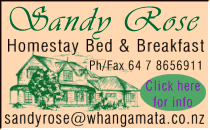 Sandy Rose B&B - This e-mail address is being protected from spambots. You need JavaScript enabled to view it.
Seaview Apartments Level 3 100 Hunt Road Whangamata
Settlers Motorcamp Hosts Henny & Bruce Gibb
Shona Davis Bed & Breakfast - Whiritoa
Stunning Views Bed & Breakfast Hosts Denise and Jim
The Chalets Hosts Janine & Garry
The Sands
Tukere House Bed & Breakfast - Hosts Maureen & Ian
Wentworth Valley Lodge
Whangamata Backpackers Hosts Barbara Handley & Pauline Stockwell
Whangamata Backpackers & Homestay


Whangamata Beach House Bed and Breakfast- Hosts Linda and Lee Alchin
Whangamata Motor Camp - Hosts Ann & Mick Brien

Whangamata Vistas B&B - Hosts Terry & Laureen Walker